Garden Services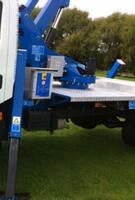 We carry out a variety of different ground maintenance contracts for both domestic and commencial businesses. Here are a list of the most popular tasks that we undertake. Please do not hesitate to contact us to discuss your specific requirements.
Domestic lawn mowing and edging cutting

Commercial Premises / Estate lawn mowing

Lawn care and Fertilise treatments

Shrub pruning

Tree pruning

Hedge cutting

Maintaining borders

Planting ( Including Supplying )

Pesticides, herbicides, insecticides and fungicides spray application

General maintenance

Applying treatments to fences, shed and furniture

Decking

Erecting fencing

And many more...
We are a fully insured business that caters for domestic and commercial properties. We are happy to provide a free no obligation quotation, which you will find us to be competitive.
These services can be provided on a one off basis or we can arrange a fixed contact for regular visits, you decide and let us know.